SonScape Retreats . . . still on the move!
by Larry Magnuson
Fifteen years ago SonScape held 10 retreats reaching 75 Christian leaders annually. This year there will be 32 retreats; 3 will be held internationally and 29 between Colorado, Tennessee, and New York. Kerith Retreats in Canada, a ministry of Focus on the Family, will hold 16 additional retreats using the SonScape program and materials. In all, almost 375 Christian leaders will find rest, renewal, hope, and healing through the ministry of SonScape Retreats. That is an increase of almost 500% across the last decade and a half! And that's only the beginning!
This year saw the launch of our 2.0 retreat program under the leadership of Greg and Connie Kennedy. A dozen alumni couples returned for this second SonScape experience. 2.0 is the first step in fulfilling our dream of an extended retreat curriculum.
Rob and Shini Abraham joined our team this year to bring SonScape Retreats to Columbia and Argentina. All three international retreats filled within days of opening registration. Invitations for additional retreats have come pouring in from countries like China, Thailand, India, and Cuba, just to name a few. Our new international program is off to an amazing start.
Our staff has grown to thirteen people with the addition of Rob and Shini and Kelly Dyer (Hospitality Services Manager/Colorado). Already discussion has begun regarding the next steps in expanding our team in 2017 and beyond.
Add to the list of accomplishments: an amazing new website, several consultations with churches and their leadership, preliminary plans for a new retreat center in Tennessee, and I have had the privilege to co-author a book which will be released by David C. Cook Publishing in early 2016. It has been a full and exciting year!
Above all else, we have watched God work in the lives of hundreds of pastors, missionaries, and para church leaders restoring marriages, healing broken lives, and renewing passion for the Church. This is God's ministry, and WOW, has He been at work!

Welcome Back
by Greg Kennedy
Here at SonScape, there has been a dizzying amount of vision being realized. We are overwhelmed with all the doors God has opened. We hope as you read these pages you too will join us in shaking your head in wonder. One of the new opportunities has been the successful launch of our 2.0 retreats.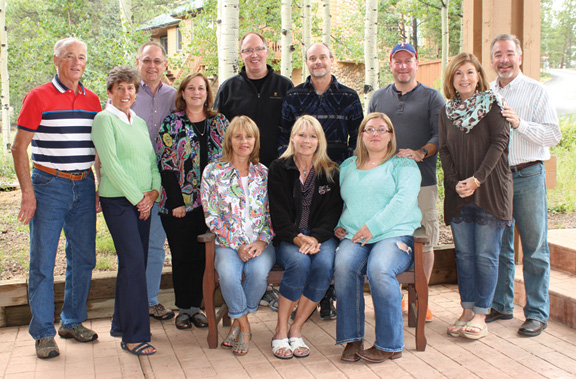 By the time October has passed, we will have held our fourth 2.0 retreat. When we talk about 2.0, we aren't talking in the language of unrealized dreams anymore! We have now joined with 24 alumni in walking further down the road of spiritual intimacy and integrity.
2.0 retreats focus on combatting common but hidden threats to a leader's ministry. These threats, when unaddressed, can hinder or derail the lives and ministries of Christian leaders. At SonScape, we are about encouraging lengthy, faithful, and fruitful ministries that serve and extend the kingdom of God. This can only be achieved when leaders are healthy.
As a SonScape staff, we are always asking ourselves, "How can we ramp up our care of leaders so that their lives and ministries can be richer?" 2.0 is one of our answers to that question. These retreats encourage our guests to view us as a continuing partner in life and ministry. This in turn may well result in their being faithful and fruitful lifetime ministers to those they are called to serve!

"For many of us, SonScape became one of the most meaningful weeks of our ministry lives. We didn't know what to expect at 2.0, but it was a fantastic week. All of the participants engaged much quicker since we knew "what we were in for." That faster bonding allowed us to go deeper and to minister to one another in more significant ways. At our first SonScape retreat, we went from hurting to the first step of healing. We left 2.0 even healthier and happier. We couldn't be more thankful for those who have made such a significant investment in our lives."
– Rob McCleland, President of John Maxwell Leadership Foundation

First Retreat Launched
by Rob and Shini Abraham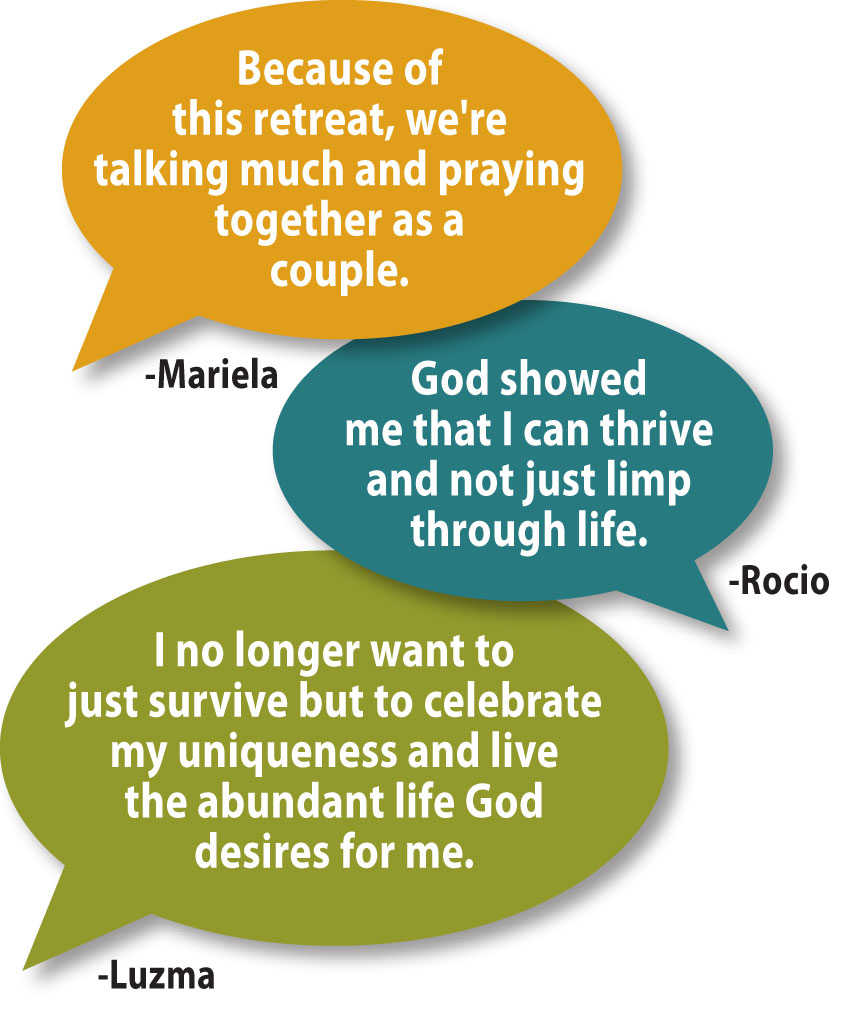 In a mountain resort in Pereira, Columbia, surrounded by coffee, sugarcane, and banana plantations, we began the retreat. Our guests, who were mostly Columbians, represented a variety of ministries – church planting, mission work among unreached tribes, ministry to street kids, evangelism, and discipleship.
A phrase we heard often as we watched God at work in their lives was "mucho profundo!" The teaching times resonated with everyone as they were reminded of the importance of consistently taking care of the things that destroy us from the inside out by intentionally establishing rhythms of rest and renewal.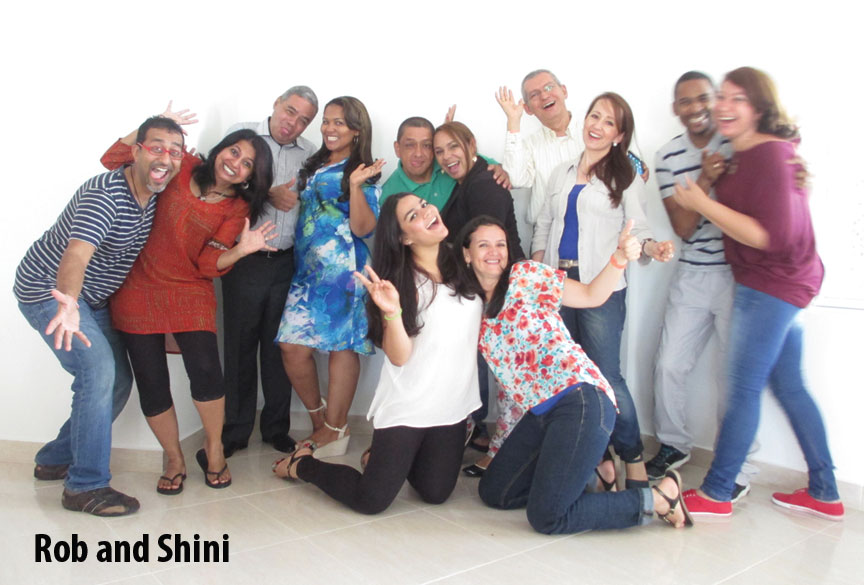 The communion time we had together was powerful. As each couple and single took their time at the table/altar, we could sense the depth of what was happening in their lives. One of the pastors said, "We've served communion and taken communion all our lives, but it's always been a quick, habitual thing. Last night was the first time we had real communion." We later learned of some of the things that happened at the altar – confession, deep commitments, releasing burdens, strengthening of marriage, receiving hope for the future.
Our guests came ready to engage with the things they needed to change. They openly talked about the struggles and challenges in their lives. It was amazing to see God do a deep work in their hearts.
Now it's time to pack our bags and head to Argentina for two more retreats!
 
SonScape has a new website!
If you haven't already heard, we launched this brand new website in August. It is simple, fresh, engaging, and interactive. We think you'll appreciate the contemporary feel and some of our new, fun features: online registration, mobile friendly, and easy navigation. Check out the rest of our site!
$200 off 2016 retreats!
Check out our early bird special for 2016. $200 off any of our 30 retreats for the coming year if you register before December 31, 2015. You can choose a retreat in Colorado, Tennessee, or New York. The offer applies to both our core retreats and, for alumni, our new 2.0 retreats.
Why not begin the year with a week of sabbath rest? Enjoy sitting before a roaring fire at our Colorado site amid the spectacular snow-covered Rocky Mountains. Or if you prefer, you can experience an early Spring along the Tennessee River at our incredible Whitestone Country Inn.
Don't wait! Register today! If you are a layperson, a SonScape retreat makes a never-to-be-forgotten Christmas gift for your pastor.
Coming Early in 2016 . . .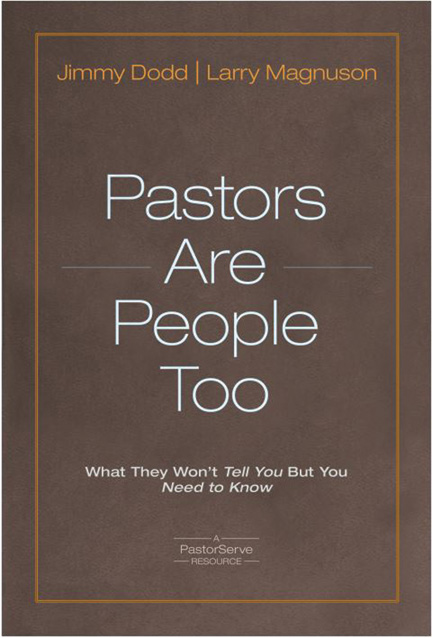 Want to understand the complex world of your pastor? Want to know how you can support your pastor? Then this is the book for you!
Co-Authored by Larry Magnuson and Jimmy Dodd, who together have over 75 years of ministry experience. This book comes straight from the heart of pastors who work with pastors every day.
Coming in May 2016!
Meet Kelly Dyer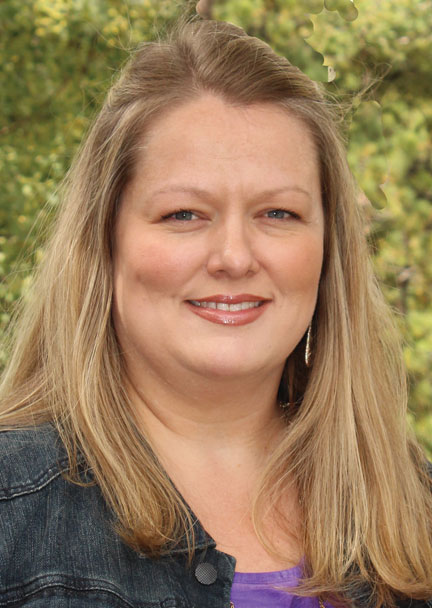 Kelly Dyer is our new Hospitality Services Manager in Colorado. Her duties include scheduling and working with our volunteer hosts, meal planning, food purchases, oversight of housekeeping, etc.
Kelly lives in Colorado Springs with her husband, Jason, and their girls, Lily and Maggie.
"I am serving in my sweet spot!" – Kelly